In Year 3 we have been learning about newspaper report writing. This week we spent some time researching a news story that was of great interest to all the children - Tim Peake in space. The children were then asked to write a newspaper report about what he has been doing. Here are some of their fantastic news reports!
As you can see from the reports below, Kings Copse has a special role in one of Tim Peake's science investigations...


Tim Peake forced to spend extra 2 Weeks aboard ISS.
Tim Peake has just found out the ESA (European space agency) have changed their plans and he will be spending an extra 14 days in the ISS. "Although I would like to see my family again being up here is a privilege a
nd being up here means more research" quoted Tim Peake. In order to go into space Tim had to have a simulation in the biggest indoor swimming pool in the world to get used to the feeling of space.
Tim will return on the 18th of June 2016.
Tim Peake will get the best viewing of the Force Awakens film
Tim Peake will have to drink from a water bubble in space
BRITISH ASTRONAUT FINDS A PROBLEM
Tim Peake has just found out he has to stay in space for an extra two weeks.
Tim Peake has been forced to stay up in his tin can (space station). He said he doesn't mind as it would be more of a privilege. He hopes he is lucky enough to see his wife and his two sons soon.
Major Tim Peake is in space trying out different experiments every day. He does up to 50 to 70 hours of science every week. Tim Peake has been training for months to achieve this privilege. Before he went up to space he had to practise in water simulations as water is a bit like being in space.
Another amazing thing Tim has done is involving children. He had 100 packets of seeds that he sent up with him and he sent them to 100 different schools. He also sent another 100 packets of seeds that haven't been to space. Lydia, in Year 3 from Kings Copse Primary School, said "The seeds experiment is very interesting and I have no idea which one is which. " This is so scientists can see if seeds are affected by being up in space. Tim Peake will be telling everyone himself which seeds didn't go up into space and which did.
This is a photo of Kings Copse children next to their seeds!
A girl named Layla had a question for Tim Peake and here is what she said "Can you take pets up to space?" Tim Peake answered and said this "You can take pets into space. We have fish and ants abroad the International Space Station right now."
Tim Peake has also ran the London Marathon in space on a treadmill. He has special bars to hold him down.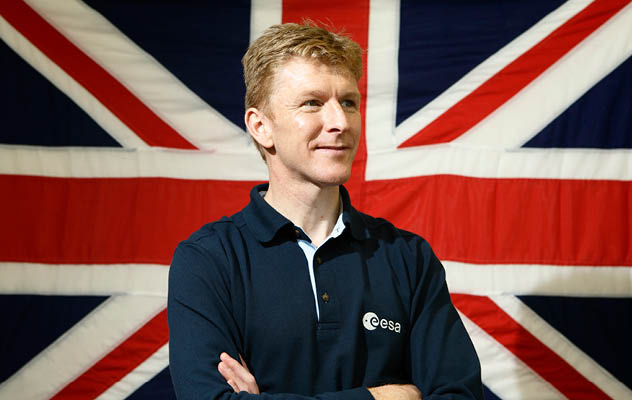 Tim Peake is proud of himself and now feels like a real famous person for the first time.
Tim Peake's Fantastic News
Major Tim Peake has been forced to stay in space for an extra 2 weeks and has now been in space for 6 months. Tim Peake left to go to space in November 2015 and is coming back June the 18th 2016
Astronaut Tim Peake has 2 children called Oliver and Thomas and a wife called Rebecca. Tim Peake ran the London marathon in space on a treadmill with weights holding him down so he could run. He ran it in 3.15 hours. While he did it he went round the earth 2 and half times. Tim Peake confirmed you are allowed pets in space like ants and goldfish but they belong to the ISS team. Tim Peake went to university in Portsmouth. British astronaut Tim was born in 1972.
Kings Copse was one of the lucky schools to get given some rocket seeds. He sent 100 packets of seeds up to space and 100 were normal seeds. Taylor, in Year 3 from Kings Copse Primary School, said "I think it is a great opportunity to experiment with seeds." Cayla, also from Kings Copse Primary School, added "I noticed that some of the seeds have grown fast and some haven't grown at all."
This is a photo of the seeds growing
This is a photo if Tim Peake and the seed experiment
This is a photo of Kings Copse children with the seeds
"Being in space is the best feeling in the world" announced Tim Peake.
However, Tim Peake is wondering if he will make it in time for the Queen's birthday.
Look on the internet to find out loads more information about Tim Peake and his adventures in space.
TIM PEAKE FORCED TO STAY IN SPACE!
BREAKING NEWS. British astronaut, Tim Peake is forced to stay on the ISS for an extra 14 days!
Tim is stuck in the tin can for six months. The astronaut is coming back in June. Tim is concerned about if he is going to arrive in time for the Queen's birthday.
Tim Peake ran the London marathon in space. It took 3 hours and 18 min. The ISS went around the Earth 2 and half times while he was running.
A view of London from space
The rocket man is also controlling a robot from space to earth. He found it really tricky but he did it. Tim Peake is doing 50-70 hours a week it seems hard.
Meanwhile schools like Kings Copse Primary School are looking after his rocket seeds if they grow! Some seeds have been in space and scientists now want to see if they will grow normally. Rio in Year 3 said "It is a great experience to be part of the experiment."
The British astronaut said "If you are passionate and have belief you may well become an astronaut too."
Read more soon to find out what happens next.